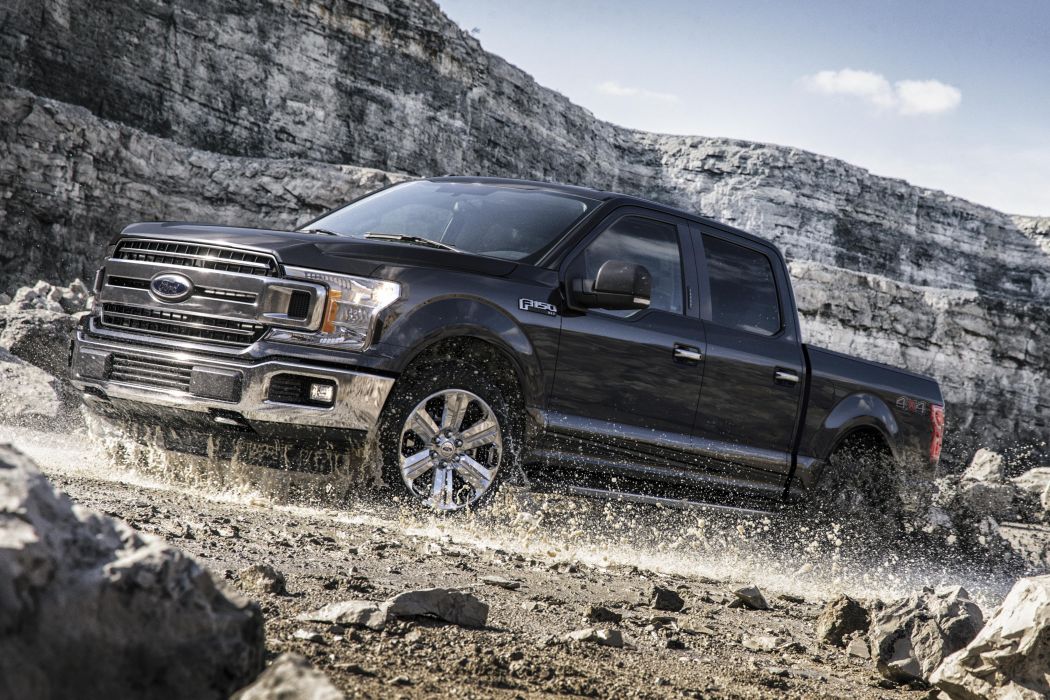 The F-150 Series pickup truck is Ford's top-selling vehicle and has also been its golden goose for decades. Whether you are looking to tow a trailer, haul lumber, drive over boulders, or just take the family for a vacation trip, the Ford F-150 has your back.
Complimenting its latest aluminum-body design are scads of high-tech features and modern engines. With a vibrant twin-turbo 3.5-liter V6 engine on its principle powertrain coupled with a 10-speed automatic transmission, the F-150 qualifies for best-in-class towing.
What's New in the 2018 Ford F-150

The 2018 F-150 models have received a refresh that presents various updates. Though the side profile might appear similar to earlier models, the front bumper, front grille, and headlights are new. Other refreshed features include tailgates and wheels.
For the 2018 model, Ford has renewed most of the F-150 engines, adding an automatic start/stop technology in all the machines. Ford has added a 3.3-liter V6 plus an optional V6 turbo diesel for the base engine. A 10-speed automatic is standard on two optional engines, including the 5.0-liter V8 and the 2.7-liter V6.
Various trims like the 2018 Lariat have their interiors revised with new materials and colors. The 2018 Ford F-150 also features further active safety assists, including adaptive cruise handling and forward-crash alerts with pedestrian detection.
Ford has equally improved the infotainment system adding an exclusive audio system and optional Wi-Fi connectivity.
The Power and Performance of the 2018 Ford F-150
There are many reasons why the F-150 model is popular among car lovers. One main reason is its excellent choice of advanced engines coupled with the 10-speed automatic transmission.
The 2018 F-150 presents up to 6 powertrain options, with its most powerful being the agile twin-turbo EcoBoost 3.5 liter V6 married to a 6-speed automatic transmission. It generates 375 hp plus up to 470 lb-ft of torque and can tow a class-topping 13,200 pounds. The base engine features a 3.3-liter V6 paired and is the only powertrain paired to a 6-speed automatic transmission. It generates 290 hp and 265 lb-ft of torque. A newly added twin-turbo 2.7-liter EcoBoost V6 produces 325 hp and 400 lb-ft of torque. This is a 25 lb-ft bump from the previous year's engine.
The 2018 Ford F-150 also features a 5-liter V8 that generates 395 horsepower and 400 lb-ft of torque, a 10 hp and 13 lb-ft increase compared to last year.
Appropriately selected, the F-150 boasts the greatest road-gripping, acceleration, and braking outcome in its category. The driving experience is steady on smooth surfaces and slight bumps on uneven roads.
How is the 2018 Ford F-150's Interior and Comfortability?
The 2018 Ford F-150 comes with a stylish and elegant interior. The driver and passenger can enjoy the massage quality on the front seats. Ford wrapped the front seats in leather and added heating and cooling features for the 2018 King Ranch trim. The leather upholstery and heating characteristics extend to the truck's steering wheel plus rear seats. You can get the 2018 Lariat trim that features standard adjustable pedals, dual climate, and leather seats for a reduced price.
The truck's controls are also well thought out, conveniently placed, and easy to master and use. For instance, the volume and temperature knobs are large and easy to reach even while your focus is on the road. The cargo space for the 2018 F-150 is almost similar to a full-size pickup. The cabin room is 5.5 feet, 6.5 feet, and 8 feet, with loads of numerous storage spots and cubbies.
Infotainment and Additional Features of the 2018 Ford F-150
The F-150's infotainment system is easy to use and comes with numerous valuable traits. Ford uses the Sync 3 system on an 8-inch touchscreen. The Sync 3 system is easy to control using voice commands, knobs, and buttons. The touchscreen input poses a quick and convenient learning opportunity for the user.
Apple Carplay, Android Auto, and a Wi-Fi hotspot are also on the deck. The truck also features two USB ports, a 12-volt and a 110-volt plug for each front and rear passenger. A new audio system, a 10-speaker Bang & Olufsen, ousts the Sony unit previously available in earlier models.
Pricing

According to the listing for the 2018 Ford F-150 on ALM cars, the average price is $35,000, which is quite affordable for a truck in its class. Prices go from $32990 to $49,944 and vary depending on the vehicle's state, mileage, location, and features.

If you're looking for a low-mileage & well-maintained 2018 Ford Explorer, our best-experienced sales team will be glad to take you through our wide inventory at ALM Cars, the best pre-owned car dealership in Georgia. So why wait? Call us or visit our dealership today and let us help you get the Ford model of your dream.